Tattoo Aftercare: How To Tell If A Tattoo Is Infected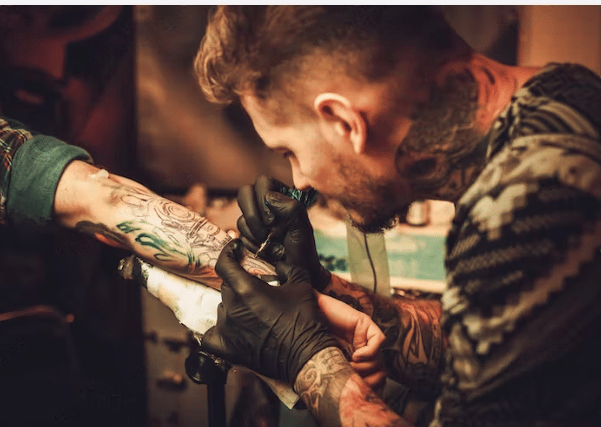 The popularity of tattoos is on the rise as more and more people turn to body art to express themselves. There are risks involved in getting a tattoo. Keep reading to learn how to figure out whether your tattoo is infected.
How to Identify an Infected Tattoo?
Tattoos are popular body art and can be beautiful additions to a person's appearance. However, they can also be a source of infection. If you think you may have contracted a tattoo infection, there are some ways to identify the infection.

The first step is to determine if you have any of these symptoms:

Redness or swelling around the tattoo;

A discharge from the tattoo;

A fever over 101 degrees F (38 degrees C);

Increased pain or inflammation around the tattoo;

Rapid heart rate, shortness of breath, or palpitations.

Severe headache, nausea, or vomiting.

Skin infection – This can manifest as a red rash that spreads quickly and is very itchy.

If the tattoo was done years ago and you no longer experience any of these symptoms, then it is less likely that you have an infection.

If you have symptoms, the next step is to evaluate your tattoo for signs of bacteria or fungus. Bacteria can cause redness and swelling, while fungal infections can produce black patches on the skin if you experience any of these symptoms after getting your tattoo.
Types of Infections and Reactions
There are many types of infections and reactions that tattoos can cause. Some of the most common complications include:
Scarring

Infection. If an infection is present at the time of tattooing, it may spread to the surrounding skin and cause fever, chills, soreness, and swelling. This infection may lead to serious complications such as blood poisoning if untreated.

Papular rash. This is a red, itchy rash that typically appears on the chest, back or neck. It is usually harmless and goes away on its own in about a week.

Tattoo removal complications (fracture, disfigurement)
Sometimes, a person's immune system will react to the tattoo ink. This can lead to redness, swelling, or pain. If a person experiences any of these symptoms after getting a new tattoo or if their existing tattoo is causing problems, they should see a doctor.
How to Treat an Infected Tattoo
If you have a tattoo and it becomes infected, there are a few things you can do to treat it. If the infection is superficial, rinse the area with cold water and antibacterial soap. See your doctor for treatment if the infection is more severe or if the tattoo ink has spread beyond the original area. Here are some step-by-step instructions on how to treat an infected tattoo:
Clean the area with soap and cold water.

Apply an antibiotic ointment or cream to the affected area three times a day. Antibiotics fight bacteria, which is why they are usually prescribed for infections such as colds or pneumonia. Applying them topically will help to kill any lingering bacteria and speed up the healing process.

Cover the area with a bandage overnight to keep bacteria from spreading during sleep. Make sure to change the bandage every day or two until healing has occurred.
How to Prevent Tattoo Infection
In order to prevent tattoo infection, take these steps:
Wash your hands thoroughly with soap and water before and after touching the tattoo.

Avoid contact with any pus or drainage from the tattoo.

Cover the tattooed area with a sterile adhesive bandage or wrap to reduce exposure to bacteria and other contaminants.

Seek medical attention if you develop a fever, sore throat, or body aches after getting the tattoo.

Keep infected areas clean and dry using a sterile cloth dampened only with hydrogen peroxide or alcohol wipes, then replace them as needed.

Encourage clients to avoid close contact with others who have tattoos while they are contagious; this includes sharing toothbrushes, razors, towels, clothes, and bedding.

If you develop an infection, see a doctor as soon as possible.
In conclusion, before deciding to get a new tattoo, you must understand its associated risks to take the right steps to get help if necessary. If you are concerned about an infection, it is important to seek medical help as soon as possible. If a tattoo appears red, swollen, or painful, it is best to get it removed and treated. Finally, always clean the area where the tattoo was done and wash your hands regularly to prevent infections from spreading.
Was this article helpful? Let us know in the comments!
Will an infected tattoo heal on its own?
There is no definitive answer to whether or not an infected tattoo will heal on its own. However, if you have a mild virus case and take appropriate precautions, such as washing your hands often and wearing a mask when you are tattooing or piercings, your tattoo may heal without any problems. If you develop a more serious case of the virus, however, your tattoo may not heal at all, or it may take significantly longer than usual for it to finally heal.
How quickly can an infected tattoo heal?
A tattoo can become infected in several ways. For example, a tattoo artist may accidentally puncture the skin with the needle while inking the client. Alternatively, bacteria on the client's skin may enter into the ink during tattooing and cause an infection. If infection occurs, it is likely to spread rapidly through the lymphatic system and lead to systemic infection.
Infected tattoos can heal quickly if properly cleaned and treated with an antibiotic ointment. The American Academy of Dermatology recommends waiting four to six weeks before attempting any type of treatment on an infected tattoo.
How to tell if a tattoo is just healing?
Some people believe that every person has a unique way of looking at tattoos and reacts to them in their own way. This means that what one person might consider healed, another might not. Here are some of the signs to help you determine if a tattoo is healing:
There may be some redness or soreness around the tattoo site.
The colour of the tattoo may be lighter or darker than usual.
The surrounding skin may feel a little bit bumpy.
There may be some crusting or scabbing around the tattoo site.
The tattoo might start to peel away from the underlying skin.
The tattoo might start to fade away slowly over time.
---