The Best Tattoo Parlour in London Is In The Town!
Tattoos are a part of humanity's universal tradition today. It has now penetrated the industry of fashion. 
People often get their tattoos to express themselves, feel an unknown power, or try and test it. It can have different meanings like love, status symbols, religion, adornments, amulets, or punishment. 
The tattooing industry isn't showing any signs of slowing down. Body ink has become much more fashionable due to celebrity trends and tattoos' rising societal profile.
Because body piercing and tattoo shops have meager startup costs, experts in the tattoo business sector think that tattooing will continue to be famous for the foreseeable future.
Additionally, as younger generations are most likely to acquire tattoos, opinions regarding tattoos, in general, will continue changing and become even more positive.
The real question is, "With the many tattoo parlours, shops, and clinics available, what will be your first choice for getting a tattoo?"
Well, you've come to the right site.
Pearl Lemon Tattoos offers the best tattooing services here in London. 
Ready to schedule an appointment? Give us a call today. 
What Can Pearl Lemon Tattoos Offer?
Tattoos, throughout the years, are one way to express messages, feelings, and anything you want to encode to it.
In today's world, the tattoo industry is steadily increasing its value and worth in the market. These results can be seen everywhere, as  35% of United Kingdom citizens aged 30-39 have tattoos. 
But how do tattoos work, you might ask?
Tattoos create permanent images on the skin by injecting ink into the dermis. Tissues of this type lie beneath the epidermis, the outermost layer of the skin. Ink is injected into the dermis through millions of minute needle pricks. Cool, right?
Whether it's your first tattoo or your tenth, Pearl Lemon Tattoos' clients are always our top priority, whether you're a tattoo veteran or a first-timer. 
Ensuring that they love their ink is the most important thing, along with helping to ensure their tattoo experience is as comfortable as possible.
As a tattoo parlour, we want to give you the best services we have to offer. You can check it out below.
Introductory Tattoo Service
As someone new to the art of tattooing, Pearl Lemon Tattoos offers an introductory tattoo service for you. They are essentially simple, compact designs created and patterned by our group of professional tattoo artists or, maybe, typical public domain designs.
Many clients who get a minor tattoo could consider it to be their only tattoo ever. Some people do change so they can get other tattoos in the future. More daring people who want to start a tattoo collection frequently select the other services.
Here at Pearl Lemon Tattoos, we offer the basic tattoo service, including consultation with the client, a wide selection of colours, and about an hour of work with an artist. These are not generally custom-designed tattoos but may include some customization of existing designs. You can choose from a variety of selections as well that range from minimalist, Japanese, tribal, oriental, and many more.
Customised Tattoo Service
Aside from the basic tattoo, another service we offer is customised tattoos. We believe in giving you the liberty to design what you want to get inked. For customers who can't find a design worth their attention, we allow them to show us what design they want to proceed with. This allows clients to be creative and expressive in any way they want their tattoos. With this service, we also offer a full consultation with our team of professional tattoo artists and discuss the tattoo that you want to be drawn into your body.
If you've grown to realize that your longtime tattoo is boring or ugly, fear not because we at Pearl Lemon Tattoos offer a cover-up tattoo service.
A tattoo cover-up is when a fresh tattoo is placed over an old, undesirable one.
Laser tattoo removal is considered the alternative option for removing an undesirable tattoo. In most cases, covering an undesirable tattoo is less expensive than removing it.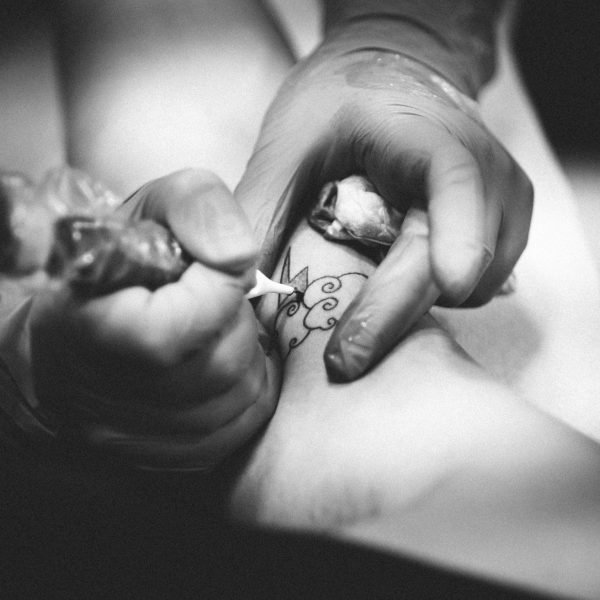 Laser Tattoo Removal Service
Perhaps it may be embarrassing to have a tattoo on your body, or some reasons or factors led you to a sad decision to remove them.
As a tattoo parlour, we offer our best tattoo removal service, which caters to all types of people who have a tattoo. 
At Pearl Lemon Tattoos, we highly recommend the laser tattoo removal procedure. 
It is non-evasive, so you won't have to worry about the process harming your skin. Specialized lenses and light energy are often used in laser tattoo removal to produce pressure that splits the tattoo's large ink particles into smaller ones.
The process is quick and precise and does no damage to your dermis. 
It is also a less painful procedure. Typically, the skin becomes inflamed and blistered after conventional tattoo removal techniques.
Thanks to technology that revolutionized a new removal technique that uses laser energy that precisely penetrates the tissue, the pain associated with removing a tattoo is significantly less.
Work With The Best Tattoo Parlour
We at Pearl Lemon Tattoos want the best for you. We tailor each tattoo and let you write the narrative that you want.
As a tattoo parlour, we have the best team of professional tattoo specialists and a collaboration of dermatologists to ensure that you get your tattoo done and ready.
In the removal aspect, we also have the best equipment to ensure that your treatments are less risky and safer.
We want to let your creativity burst and explode into an art to be embedded in your body. We want you to shine in your way. 
Book a call today with us, and let's get you inked!
Frequently Asked Questions
You need to come to the tattoo parlour for us to judge and discuss your design and give you an estimate or opinion. If you want to talk to a specific tattoo artist on our team, you can make an appointment with them by contacting us through our contact information listed below.
People should be aware of three general consequences of tattoo removal.
First off, hyperpigmentation causes the skin to darken progressively.
Hyperpigmentation is a condition that affects the skin above the area after tattoo removal lightens. Keloids are raised regions of scar tissue that develop everywhere around the treated area, even though they are uncommon.
Other persistent adverse effects include blistering, scabbing, swelling, and itching, which are signs that your immune system has started healing. The degree of discomfort, infection, or muscle soreness is unaffected by skin tone or type
Pearl Lemon Tattoos always wants to consider your needs and demands in tattoo service.
Because of this, we always talk, advise and estimate the price with you by considering the tattoo designs, colours, and other factors for it to be fair, except if you let us choose for you (in this case, just our original offer, which has its pricing already).
Do you want to know more about us? Book a call with us.
We'd Love To Hear From You!