Five Of The Most Popular Upper Back Tattoo Designs For Men
Trust Us To Help You Get A Customised Upper Back Tattoo For Men
The back is one of the most popular areas of the body to get a tattoo. Because the back is one of the widest, flattest and largest parts of the body, it acts as an ideal canvas for any eye-catching and complex inking that you want to have done.
Many men choose the upper back as the placement for various reasons.
The back is a symbol of strength and hard work. These are qualities that many men seek to embody. The upper back is one of the most visible places to get a tattoo; it will draw focus when you take your shirt off. 
Back tattoos are an excellent method to express your masculinity. 
Showcase your strength by getting an upper back tattoo at Pearl Lemon Tattoos. 
Book a call now for a consultation.
Things To Consider Before Getting A Upper Back Tattoo For Men
If you are a first-timer, it is crucial to understand that every tattoo-getting experience will differ depending on which part of the body you plan on getting tattooed. For back tattoos, here are some things to take into consideration.
Before you make your appointment, you will need to see your doctor. You must get your doctor's clearance if you have any back or spine issues. Getting a back tattoo can aggravate any spine or back issues and put your physical at risk.
You Will Be Unable To Watch The Tattoo Process
Unfortunately, if you enjoy watching yourself getting inked, you will be unable to if you get a back tattoo. When going through with a back tattoo, you will most likely look at your tattoo for the first time after a session.
You can do several things to make your upcoming upper back tattoo session as smooth as possible.
Make sure that you eat and drink before your session.

Do not drink any alcohol for at least two days before your appointment. This can increase bleeding during the session.

Do not go to tanning beds; avoid sun exposure days before your appointment.

Wear loose clothing that can easily be removed.
Popular Back Tattoo Designs You Can Get
This art style uses curved, pointed lines to form unique shapes. It gained popularity in the 90s and continues to be popular today. It is often used to express masculinity as the design often moves with your muscles.
The cross is a popular choice among religious men as Christianity's holiest symbol. Seeing as the back is a large canvas, cross tattoos can be more intricate. You can include any important or life-changing biblical verses in the design.
Another popular choice, this tattoo often holds important meaning to an individual. It often represents becoming a better person and breaking free from any metaphorical chains that have held the individual back in the past. It is often used to pay tribute to Viking culture; Norse warriors had wings tattooed on their backs so they would be taken to Valhalla.
One of the most popular choices is animal-inspired tattoos. Eagles are fierce birds of prey known for their ability to soar to great heights and hunt with incredible precision. As such, this is another tattoo design that holds great significance for many people.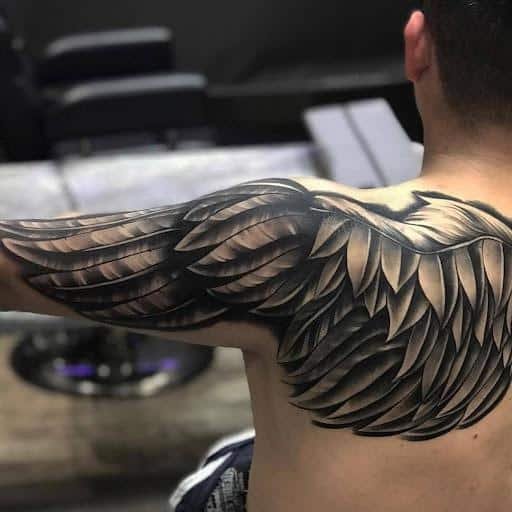 These types of tattoos are usually gotten by men interested in the Orient, as a dragon represents power, wisdom, strength and hidden knowledge in the East. There is a lot of versatility in the design of a dragon tattoo. You have endless options; a powerful dragon could curve around your back muscles or breathe fire.
Let's Walk This Journey With You
Seeing as your back is one of the prominent areas of the body, you will want to get a tattoo artist that is highly skilled and trained to give you a world-class tattooing experience.
That is what the tattoo artists at Peal Lemon Tattoo aim to do. 
Our highly talented tattoo artists have years of experience creating upper-back tattoos that our clients enjoy and love. 
If you'd like to look at their portfolio, why not stop by? They will be happy to showcase some of their work. You can also follow them online to keep up-to-date on any art they create in the future.
We follow strict health and safety protocols and procedures to restrict the spread of germs. All of our tattoo artists are trained to follow these procedures, so you can be sure that you are in safe hands.
The client is always our primary concern; your well-being, safety and comfort take top priority. We ensure that your tattoo will be done in a safe and relaxing space. We ensure you are as comfortable as possible before starting a session. 
Book an appointment now to get the upper back tattoo you have always dreamed of. 
Frequently Asked Questions
Getting a tattoo on your upper back causes low to moderate pain. The skin of your upper back is thick and has very few nerve endings.
The length of your tattoo session depends on the size of the tattoo.
If you get a small, simple tattoo using only black ink, you can expect to be in the chair for about half an hour to an hour. Note that small tattoos containing many colours and intricate line work could take several hours.
A medium-sized tattoo the size of your palm could take between two and five hours to complete.
Larger tattoos take multiple sessions; you must return every few weeks to finish the piece.
Back tattoos can be difficult to take care of if you do not have someone to help you. They can be hard to reach, and your body's natural movement can impact their healing process. Before considering getting a back tattoo, ensure that you have someone to help you wash and moisturise the tattoo twice a day.
We'd Love To Hear From You!