Eight Things To Remember When Gifting A Tattoo To Your Child
Let Pearl Lemon Tattoos Help You Gift A Special Experience With A Small Tatoo For Your Child
Is a tattoo a good present?
Probably a question that doesn't get asked often by parents, but maybe it is something that you should be asking yourself. If your child has expressed the desire to get their first tattoo, then the answer to this question is a resounding 'yes.'
A small tattoo for your child is a unique and special gift that will last forever. It is a gift that your child will never forget.
You can make it more special by getting matching tattoos that represent your bond with your child.
If they want something a bit more personal, our tattoo artists will be able to create small tattoos for your child.
Small tattoos are a popular choice for first-time tattoo getters.
The simpler the tattoo design, the better; your child can always add to the tattoo at a later date.
If getting a small tattoo is something your child might be interested in, give Pearl Lemon Tattoos a shot. 
Our tattoo artists recognise how important getting your first tattoo can be, and as such, they are trained to make the experience as calming and stress-free as possible.
Book an appointment with us now.
Small Tattoo For Child As A Gift
When gifting a tattoo, the first thing that you need to be sure that the recipient explicitly expressed the desire to get a tattoo.
Once you have determined that, you can start looking for the right tattoo parlour and tattooist.
You need to ensure the parlour is professional, reputable, and clean.
You need to ensure that the tattoo artist you choose fits your child. Each tattoo artist has their unique style. Talk to your child about their favourite art styles, and find a tattoo artist to match.
This is a process that you can do with your child. Getting a tattoo is a huge choice that takes much thought and planning.
Instead of just surprising your child with a gift certificate, you could design a special card that reveals what your present is and move on to researching options together.
Once you and your child have chosen a tattoo shop and tattoo artist, you must be sure to give your loved one the space and freedom to choose their design.
If they are willing to accept input, you can bring up your idea of getting a tattoo that represents your bond as parent and child. You can also send inspiration by sending them tattoo art that you think they might enjoy.
Slowing down also allows your child to alter their mind about getting a tattoo.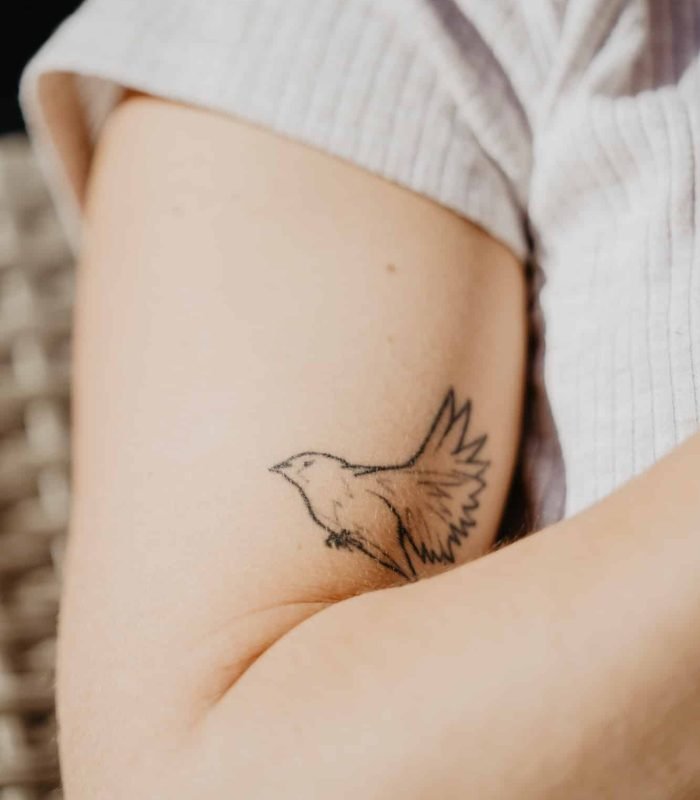 What First-Timers Can Expect From A Tattoo Session
Getting a tattoo for the first time can be an exciting and nerve-wracking experience. Here's a general overview of what you can expect from a typical tattoo session:
Before the tattoo is done, the artist will sit down with you to discuss the design, placement, and size of the tattoo. They will also answer any questions you may have about the process.
The tattoo artist will clean the area of the skin where the tattoo will be done and apply a stencil of the design. The stencil is used to ensure that the design is placed correctly, and it will be removed before the tattooing begins.
The tattoo artist will use a tattoo gun (a small electric machine) to inject ink into the skin. The sensation of the tattoo gun can feel like a vibration or a buzzing sensation, and the tattoo will feel mild discomfort. The pain level can vary, but many people describe it as similar to being repeatedly poked with a needle.
After the tattoo is finished, the artist will apply a bandage or wrap to cover the tattoo and will give you instructions on how to care for it during the healing process. This will include instructions on how to clean the tattoo, how often to do so, and what type of ointment or lotion to prevent infections and promote healing.
The tattoo will take some time to heal, usually 2-3 weeks, during which it will feel sore and tender and may scab and peel. The tattoo will be itchy, and the colours will appear bright, but they will fade and look more natural over time.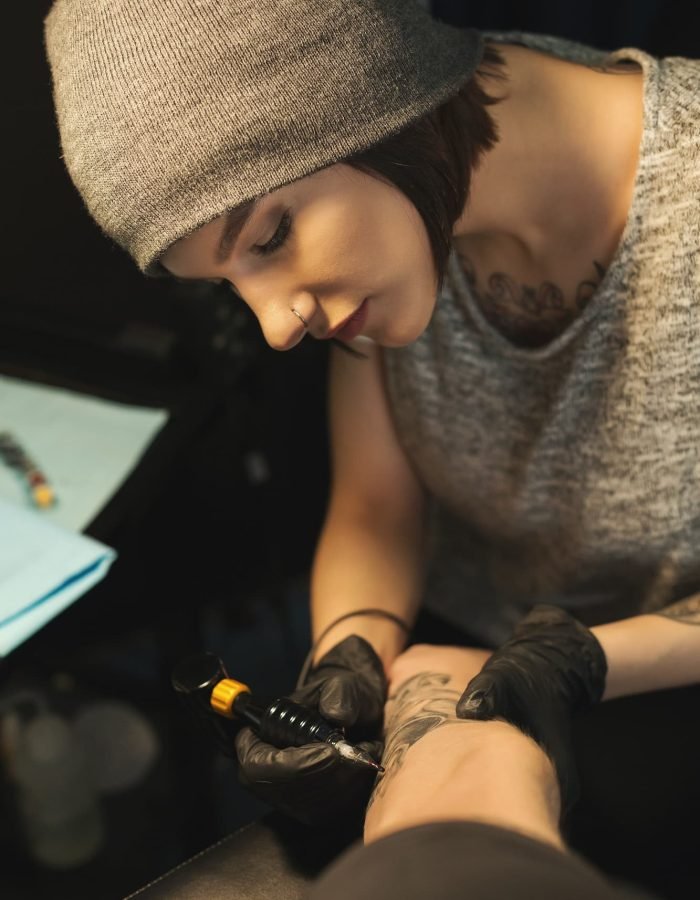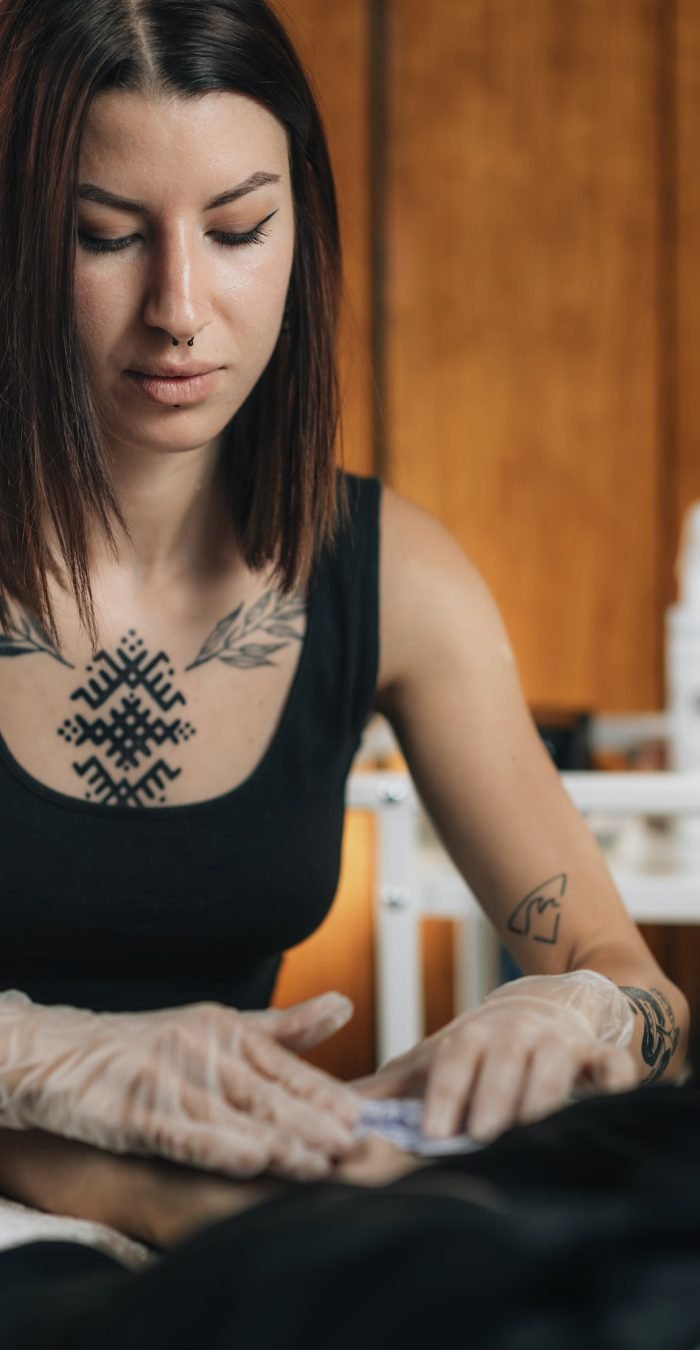 What You Should Do Before Your First Tattoo Session
Preparing for your first tattoo session can help ensure the experience is as comfortable and enjoyable as possible. Here are a few things you can do to help you prepare:
Having enough rest before your tattoo session will help you feel more relaxed and better able to handle the discomfort of the tattooing process.
Eating a satisfying meal before your session will help keep your energy levels up, which can be helpful during the tattooing process. It's also best to avoid alcohol and caffeine before the session as it can make you feel more anxious and cause your blood vessels to dilate, making the tattooing process more uncomfortable.
Wearing loose and comfortable clothing can make it easier for the artist to access the area being tattooed and can help you feel more relaxed during the session.
Be sure to communicate clearly with the artist about your pain tolerance, what you're comfortable with, and what you're uncomfortable with. This will help them adjust the tattooing process to suit your needs.
Make sure you understand the artist's aftercare instructions and follow them carefully to ensure proper healing and avoid infections or other complications.
Trust Pearl Lemon Tattoos With The Small Tattoo For Your Child
If you want to get a small tattoo as a special gift for your child, Pearl Lemon Tattoos is here to help.
We specialise in designing beautiful and meaningful little tattoos for any occasion. We offer a broad choice of designs, whether you want to honour your child's interests, commemorate your relationship, or just show your love and pride.
Our expert tattoo artists have years of experience dealing with tiny tattoos and are adept at designing elaborate and detailed patterns that are visually beautiful as well as meaningful. We take the time to understand your concept and collaborate with you to develop a one-of-a-kind design for your child.
Our studio is clean and well-kept, and we adhere to stringent sterilisation and safety protocols to safeguard our clients' health and well-being. We are committed to giving the best customer service possible and aim to make your tattoo experience as pleasant and joyful as possible.
If you are interested in getting a small tattoo for your child, we would love to help. Please contact us to schedule a consultation and discuss your ideas with one of our tattoo artists. We look forward to creating a meaningful and special tattoo for you and your son.
Frequently Asked Questions
Getting a tattoo is generally always painful, though people may experience different levels of pain based on their pain tolerance levels.
Small tattoos typically take between half an hour to an hour to complete. Keep in mind a small tattoo with lots of colours, line work, details, or tricky placement could take several hours to complete.
The price of a small tattoo can vary based on its size, intricacy, and location.
We'd Love To Hear From You!