After going through the most challenging part, you have decided it's time to cover up your old tattoo. Although tattoos are great, there are times when people don't want their ink to be visible. It doesn't matter if you're getting married, going to a job interview, or just feeling like covering your tattoo temporarily. Possibly, it reminds you of a time or decision you'd rather forget. A previous tattoo artist may not have captured your vision. Maybe you are ready for new artwork. Regardless of your reason, this article will help you with practical steps to cover up your tattoo.
How to Cover a Tattoo with Makeup
The first step. To become invisible, you must first clean up the surface:
Even though tattoo coverage is not a traditional makeup application job, it is still important to prepare and clean the skin beforehand. Using a cotton pad, clean the tattooed area with rubbing alcohol. Besides disinfecting the area, this helps absorb any natural body oils from the area, allowing you to apply makeup cleanly. Also, make sure the area is free of lotion and other products.
The second step. Preparation and priming:
To ensure maximum makeup hold, apply a primer to the area you wish to cover. Using any makeup primer, you can apply a pea-sized amount with your fingers. Ensure that the product is completely absorbed by massaging it into the skin.
The third step. Prepare the coverage by:
When applying makeup over dark-coloured tattoos, you may want to use a colour corrector. When covering blue or faded tattoos, use orange, and when covering deep black tattoos, use red. As a result, the actual coverage will be faster and more effective. When you have finished applying your body makeup, choose the shade that best suits your skin tone. The first application should be applied to the entire tattoo as a starting layer of coverage. To ensure complete coverage, follow the next steps if there is still visible ink.
The fourth step. To conceal a tattoo, follow these steps:
Using a body concealer one shade lighter than your natural complexion will help highlight and neutralize any tattoo undertones, typically a blue-green tint. It is possible to use a body foundation stick or any liquid foundation.
The fifth step. The body concealer should be stippled on as follows:
To even out the colour and texture, use a flat top stippling brush once the tattoo has been covered in ink. It only takes a little product to make a big difference. The area should be maintained with the least amount of product possible.
The sixth step: Check your work:
Consider taking a step back or using a mirror to review the overall perspective and see if more coverage is required. As the studio lighting might affect how the makeup looks on screen, I recommend reviewing the coverage on a monitor on set.
The seventh step. If necessary, apply for more coverage:
Use a stippling motion to apply another layer of concealer if more coverage is required. It is possible to build coverage over the tattoo as often as needed until it is completely covered.
The eighth step. Make sure it's locked in:
At this point, the makeup must be locked in to ensure it is water-resistant and long-lasting. On top of the makeup, apply a generous amount of the Loose Setting Powder in the original shade using a powder puff, sponge, or brush. Allow the powder to sit for at least two minutes before buffing it away. You should wait at least five minutes before buffing off the setting powder after applying more than one layer of foundation. By doing this, all moisture from the product will be removed, and it will not move.
The ninth step. This set is perfect for wearing all day long:
A light mist of the Lock and Last Setting Spray is sprayed over the covered areas as a final step. This will help make the new 'skin' look more natural and help bring the surrounding tissue into synchrony.
Covering a Tattoo with Another Tattoo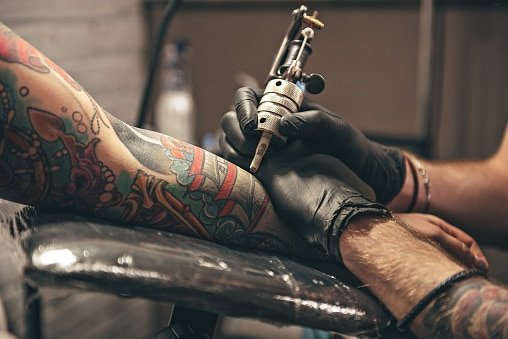 The first step. Keeping the design close to the old ink
Cover-up tattoos work best when they mimic the old ink. It would be much easier to cover up a large Celtic knot on your foot with a Celtic design than to do a new piece in a realistic style. 
The second step. Build on the current design 
You can improve your current design. A tattoo can be enlarged, detailed, or coloured more deeply. If you have a single feather tattoo, consider covering it up with a peacock.
The third step. Prepare for a bigger size
The cover-up tattoo must be at least the same size as the original. It probably needs to be bigger. When determining your new design, it is important to consider size (and whether you should get a cover-up or laser tattoo removal). 
The fourth step. Cover Up Tattoos May Mean More Maintenance
It may take up to three sessions to ensure your cover-up tattoo saturates fully. In addition, cover-up tattoos are more likely to fade than "originals." Proper tattoo care includes moisturizing and sun protection. 
The fifth step. Find Cover Up Tattoo Artists 
Cover-up tattoos require experience, especially when you're just getting started. You can trust these artists to work with you to choose a design that will effectively cover up your old tattoo. To cover the old tattoo completely, they can suggest style and colour. 
The reasons for wanting them are as diverse as those needing cover-ups. Cover-ups are only as effective as the original tattoos and their design. It is much easier to cover an old, faded tattoo in light colours such as blues and greens than a brand-new tattoo in black ink. In some cases, tattoos can be covered with makeup, while tattoo cover-ups may be preferred in others. Understanding your options and the likelihood of each method is essential before selecting a covering method for your tattoo.
Was this article helpful? Let us know in the comments.
Does tattoo removal cream work?
Tattoo removal cream is a topical solution used to remove tattoos from the skin. It is made of a combination of benzoyl peroxide and an oil base. It can be used on both male and female skin, but it usually works on the face and neck.
What colour cancels out a black tattoo?
Generally, black tattoos have green or blue undertones, which can be removed with a red or orange colour corrector.
How long until you can cover up a tattoo?
A cover-up design can only be arranged once your tattoo has fully healed. Tattoos are open wounds, and while the top layer of skin will heal in two to three weeks, it may take months for the tattoo to heal completely.
---