What Tattoo Should I Get: A Tattoo Design Selection Guide
Source: pexels.com
Tattoos are permanent, so you might have a hard time thinking about whether you are making the right decision.
Tattoos are a great way to express your individuality and personality. They can also be an effective and stylish way to remember your favourite memories, celebrations, or even personal achievements. Some consider tattoos as a way of immortalising a memory with them or as a way of keeping a piece of someone or something with them.
An experience or something powerful in life can be permanently etched into a tattoo, making it a permanent reminder. It is not uncommon for tattoos to inspire people, remind them of something they've overcome, and give them a feeling of empowerment.
Tattoos can have profound meanings, not just because of their design but also because of the emotions they evoke. It is not uncommon for the choice to be accompanied by intricate, delicate stories.
However, that's not always the case. Some people don't really think much about the meaning of their tattoos. It can be just something you really like, but that doesn't mean that it is not as powerful as meaning tattoos. Tattoo is an art, after all-just on a different canvas. The tattoo can be a fashion statement or expression of art. It doesn't have to be meaningful all the time. Tattoos, meaningful or not, are beautiful!
If you still have not decided on what tattoo to get, we are here to help. Keep on reading, and this article might help you choose your next tattoo design.
Identify Why You Want to Get Inked
Is there a special moment or memory that you would like to commemorate? Would you prefer a design that is truly unique? Make your design decision based on your reason. Getting tattoos, whether for yourself or your loved one is a lifelong treasure. There are many ways to honour a loved one who has passed on, a family member present, a longtime best friend, or a lifelong partner through a tattoo. Good intentions usually lead to positive results when you buy something for someone.
If you're searching for a tattoo of your grandmother's face, or maybe you gave birth to your first child, dates can also serve as an incredible tattoo because they are a unique reminder of a special moment. Neither does it have to be something traditional or grand. You might be celebrating a favourite pop artist's birthday or travelling by yourself for the first time. If you're a fan of astrology, it could be your zodiac sign too. Perhaps a simple date of when you made a big decision might be something you want.
Or it could be just because you want something cute. It can be your favourite flower or favourite cartoon character. It can also be just anything you find beautiful! There are endless options, so make sure you narrow it down to help you decide better.
Look for Tattoo Inspirations
After you have identified the primary reason why you want to get a tattoo-whether it is for aesthetic or has a deeper meaning-you can start looking for tattoo inspirations online. In addition to tattoo magazines, you can find a lot of inspiration in tattoo magazines. You can also try to browse social media for some tattoo art inspiration. It's also a good idea to keep a notebook in which you can collect all the design ideas you like. This way, when the time comes, you'll have plenty to choose from. Take a look at art inspirations, tattoo ideas, and a lot of different forms of art that might give you an idea of what you would like.
If you are looking for unique tattoo inspiration, you may look for it on unusual tattoo references. There is nothing the tattoo industry cannot render in this realm, no matter what you can imagine, whether it is Pokémon or superheroes. Take some time to watch your top ten favourite movies for some inspiration. That's what we would do, too. Regardless of whether you take the non-traditional route, it would always be a good idea to send your artist a clear, high-quality photo to help with their design.
Make a List
When looking for tattoo design ideas and inspiration, it is a good idea to make a list of everything that caught your interest. Having a list will help you keep track of the inspirations you have liked so far, and it can help you decide which is the one you liked best later. It can be a list of your favourite quotes from the movie you have watched, a list of important dates you would like to remember,
Think Ahead
Obviously, you cannot see into the future, so you cannot predict what your life will be like in a few years, but make sure you choose something that will survive. If something seems a little too trendy or of the moment, ask yourself if it's something you will be comfortable with years from now. It is important to keep in mind that trends change over time. Tattoos should last a lifetime rather than a few days, weeks, or months since they are permanent. Whether the style is trendy or not won't matter if you love your tattoo.
Determine Where You Want Your Tattoo To Be
After you've thought of the possible designs you might get, it is time to think about where you want them to be. Some designs will look better in certain places, depending on where you are interested in getting them. In many cases, this decision depends on the way you live your life on a daily basis. Check your tattoo location to see if you want it visible or if you want it a bit more subtle.
Ensure It Makes You Happy
Once you have decided on the final tattoo piece you would like to get and where you want it tattooed, ensure that you are satisfied with your decision. Again, tattoos are permanent. Would you like it to be a little bigger? Or maybe you want to change the colour. Make sure that everything is perfect and is going the way you want before you actually get it tattooed.
Consult Your Tattoo Artist
If you just can't seem to decide on the final perfect design, no worries. Consider working with an artist who will help you design a tattoo that matches your style. Most tattoo artists will assist you in brainstorming a few designs based on your personal information and will suggest some options that fit your desired placement and size once you've revealed a few details. Make sure the artist's suggestion really fits you before you agree to it, no matter how good it may seem.
Source: pexels.com
Tattoo Ideas
Still undecided on what tattoo to get? Here are some tattoo ideas that can get you started.
Source: pexels.com
There is a good reason why the heart is so popular among tattoos. All cultures recognize this symbol, which carries deep meaning for the wearer, including love, loss, and heartbreak. Many designs are available for heart tattoos. Some are simple and minimalist like an outline, while others are more detailed like a sacred heart. Choosing the right colour for you is also important; red ink represents friendship and love, while black symbolises sorrow.
Source: tattoofilter.com
Semicolon tattoo designs can carry deeply personal meanings, and they are among the most popular tattoo designs. Mental health and depression sufferers wear it as a symbol, reminding them that their stories are not yet over. The journey that they have undertaken has not ended, and their lives will continue, despite the struggles they have been through. For this reason, tattoos like these work best on the wrist, where they can be easily seen, to remind the individual of obstacles that they have overcome and how they can handle them going forward.
Source: pinterest.com | Positive Fox
As an example of an uplifting and inspirational tattoo, such as an angel design, tattoo would symbolise sorrow and warn of danger. They are considered pure beings who have been assigned to protect all that is good and sacred. Angels are associated with heaven. Religious people who wish to honour their faith can therefore benefit from these tattoos. Additionally, they can be used to honour a loved one or to remind the wearer that they have a guardian watching over them.
Source: pinterest.com 
There are many meanings associated with snake tattoos; for some, they are considered evil creatures, such as in the story of Adam and Eve in the Christian Bible, the snake is the tempter that led to sin. Other people, however, consider them powerful and mythical. Snake tattoos can symbolise strength, protection, and even good luck in Japanese cultures, while rattlesnakes are revered in Native American cultures. Because snakes shed their skin, serpent ink can also symbolise transformation or rebirth. There can also be a symbolic meaning to them, such as danger or fertility.
Skull Tattoo
The art of tattooing skulls is often intricate, time-consuming, and requires skill. Many cultures recognize this image as one associated with death or mortality. It has been a popular choice of ink for decades, and it can convey a variety of meanings, depending on the design. Consider bold colours or floral details if you want to make your tattoo more feminine. It is undoubtedly true that whatever you choose, your ink will stand out.
Source: pinterest.com | I AM & CO
Our existence would not be possible without the sun. Besides providing light and energy, it can also symbolise the truth or a key to overcoming dark times in life. There are others who may be inspired by the sun because it reminds them of the beauty of the world around them. A sun tattoo can have a variety of meanings, allowing the wearer to customise the ink according to their tastes.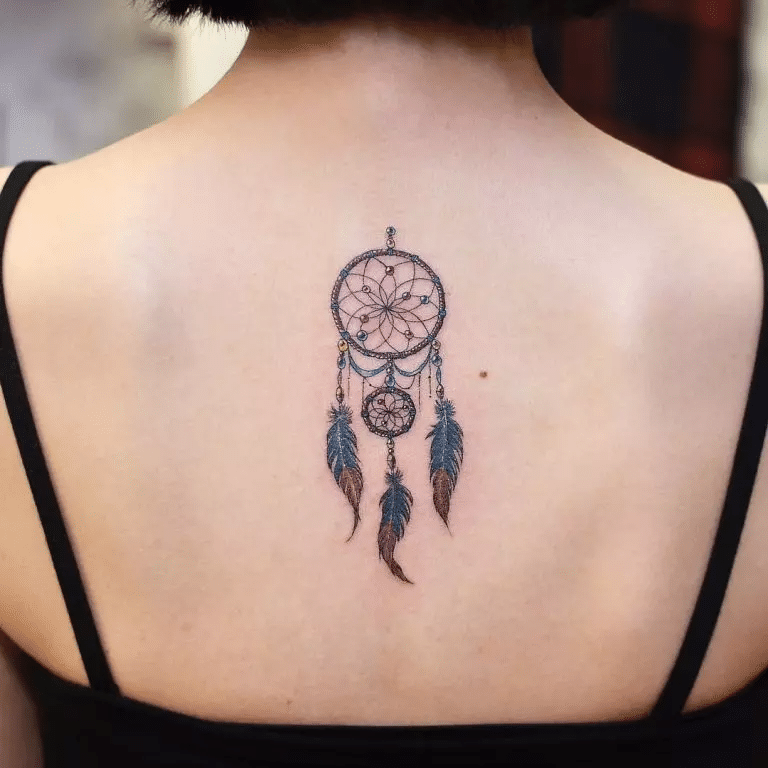 Source: instagram.com | Tattooist Grain
If you are looking for a meaningful tattoo, this piece may be of interest to you. Dreamcatchers are originally hand-woven products which replicate spider webs. Native Americans invented them. Hanging it serves as a form of protection, a way to filter out negative experiences and focus on the positive. Due to their detailed nature, dream catcher tattoos usually look best on larger areas of skin, such as the thigh.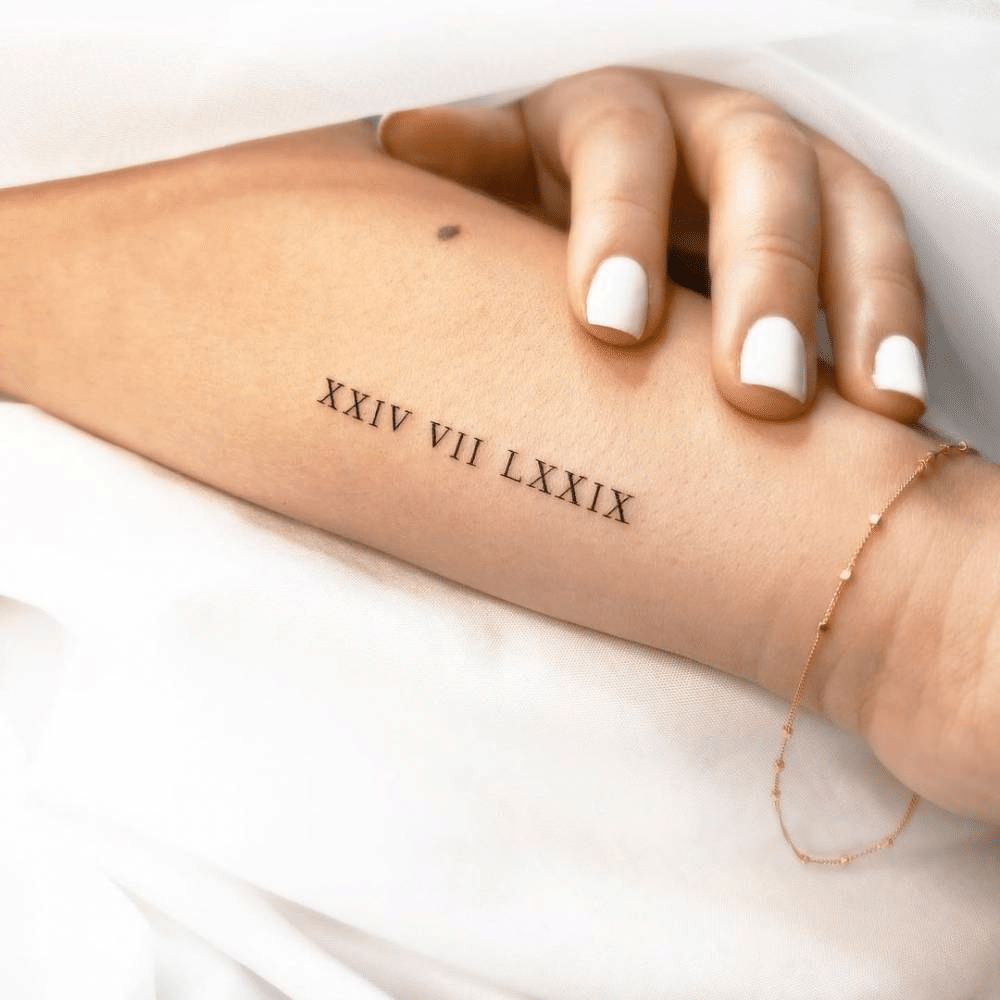 Source: tattoofilter.com
You can get a roman numerals tattoo to honour a special date in your life in a simple yet effective way. A wedding date, a child's birth date, or even your birthday would all count here. A memorial piece could also be created in honour of a loved one who has passed away. This numbering system is unique and interesting since we don't use it every day, and people may have to think for a moment before they can work it out. A tattoo like this can be positioned anywhere on the body, and ink can be varied in size and shape. Add images like roses, clocks, or skulls to make your design more meaningful, such as roses, clocks, or skulls.
Anime Tattoo
An anime is a form of animation that is based on Japanese culture. Various characters are available with detailed storylines to choose from, making it popular worldwide. If you are looking for an anime tattoo that reflects your passion and represents your likes, this is a great choice for you. Tattoos can be simple, featuring anime logos, or can feature characters from your favourite anime. As well as using multiple images to tell a story, sleeve tattoos can be used to combine several images.
Custom Tattoo
There is no right or wrong way to make a cool tattoo. A unique tattoo design that makes people do a double take or a badass tattoo that intimidates and makes the wearer look tough are all suitable for this type of tattoo. Choosing the right location for your piece can also add to its cool factor. For instance, you can choose to place your piece on your neck or face to show off your rebellious side or on your hip or underboob for a sexy and intimate look. Choose something you will enjoy seeing every day and get creative with your piece.
Source: pexels.com
Conclusion
Making the wrong decision when choosing a tattoo can be painful, costly, and inconvenient since it's so permanent. Your final decision should take into consideration a number of factors, including size, colour, design, meaning, style, placement, and which artist to choose.
To make the right choice, you need to take your time and do all the research you can. Make sure you have an idea of what tattoo design you would like to get before heading into the tattoo studio. Your tattoo artist can help you-but know what you want and will help the tattoo artist offer you related tattoo designs! It all boils down to personal taste.
---