Official Inked: How to become a tattoo artist
There are many tattoos with lost meanings. Individuals and groups within a society have always distinguished themselves from others by using body decorations like scarification, tattoos, and piercings. A tattoo is a part of a person's identity. Culturally and historically, tattoos have been both sources of pride and shame. To many people, tattooing was intrinsically linked to the endurance of pain. Depending on the tribe, tattoos may indicate age, marital status, power, and class and may distinguish friends from foes. There are many similarities between ancient tattooing and modern tattooing, though the reasons are not clear-cut.
Tattoo Artist: What's Involved, and Who's Suitable?
The following are some of the duties of a tattoo artist:
Tattoo artists use specialist ink and needles to design tattoos and apply them to their bodies. It takes proper training to become a tattoo artist.

In addition to ensuring clients have the necessary ID, tattoo artists should ensure they do not have any allergies or medical issues.

Finding out what type of design the client wants by consulting with them.

The creation of artwork according to the wishes and needs of the client.

Using a transfer or freehand drawing to trace the finalised design onto the client's skin.

Tattoo application.

Assisting with detailed aftercare instructions.

Maintaining a clean environment and sterilising all equipment. Inks, machine heads, needles, and gloves need to be ordered.

Artistically talented and creative individuals make excellent tattoo artists because of the nature of their work.
The art of tattooing is a form of expression.
A tattoo artist must also possess the following skills and qualities:
A great deal of attention to detail. It takes patience and concentration to complete long tattoo sessions. You should be able to maintain good hand-eye coordination as well as a steady hand. Awareness of hygiene practices and high standards of cleanliness. Ability to communicate well and provide good customer service. Ability to network well.
What is the Average Salary of a Tattoo Artist in the UK?
It can be difficult to estimate how much a tattoo artist can earn in the UK due to various factors. Depending on your level of experience and skill, you will typically earn more or less. Your studio ownership or employment status is considered in this situation. You should also consider the level of commission you are willing to accept.
It is normal for apprentices to start without pay to earn very little when they first start. A basic pay rate is sometimes offered to tattoo artists, as well as commissions for the tattoos they do. Studio workers typically split their hourly rate with the shop owner. Studio owners will receive a split ranging from a 50/50 split to a 40/60 split in their favour.
Education Requirements for Tattoo Artists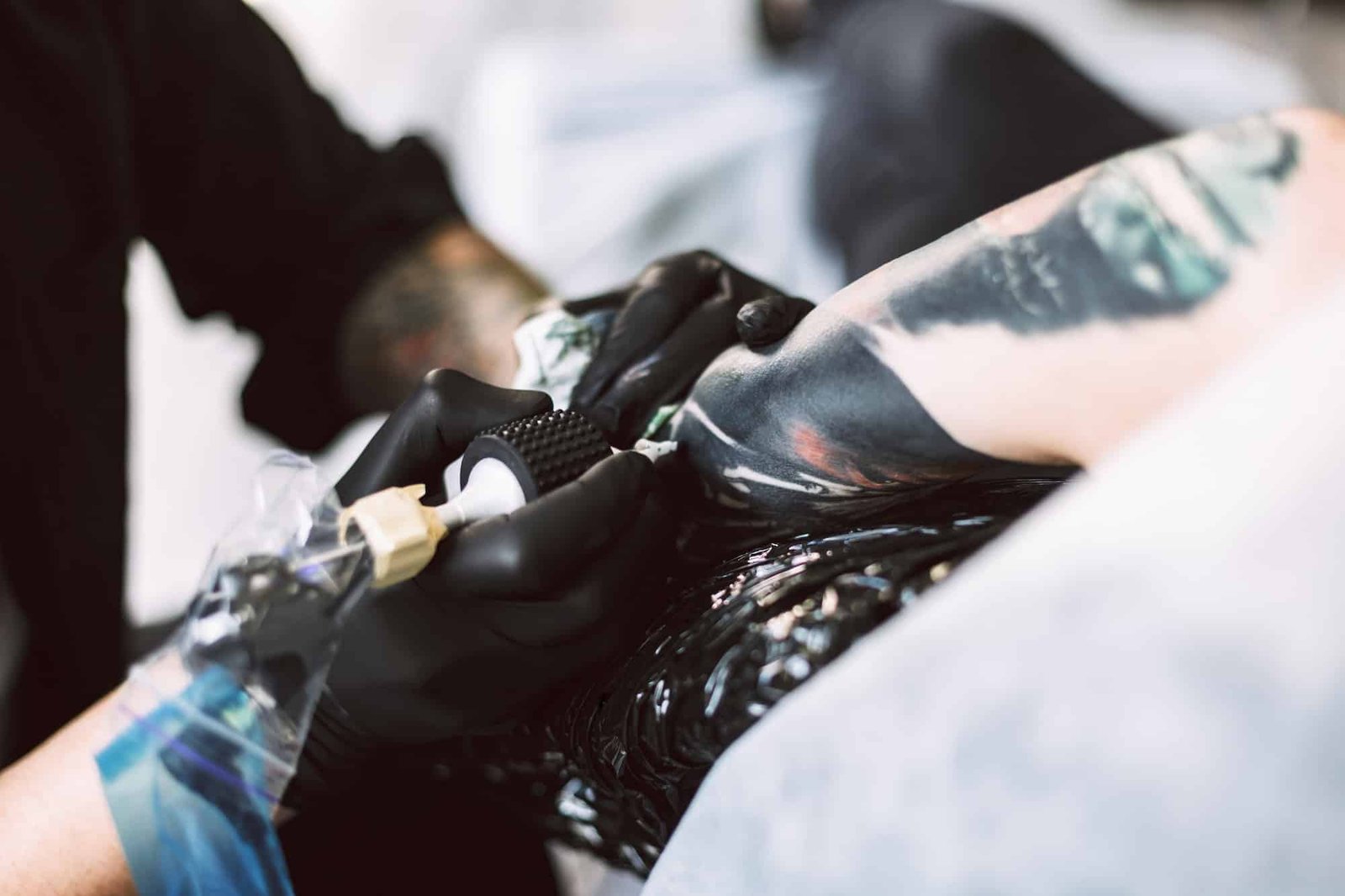 There are no specific requirements for becoming a tattoo artist. The good news is that there are routes you can take to become a successful tattoo artist. Apprenticeships are common for many people. The best way to get started in this career path is to approach local tattoo artists and ask if they would consider taking on trainees. In addition to having artistic and technical abilities, tattoo studios expect you to show a real interest in tattooing.
A tattoo apprenticeship will teach you everything you need to know about becoming one. Usually, this begins with cleaning and sterilising the equipment during the first few months. In addition to learning about design, human biology, preventing infections, and how tattooing works physically, you'll also learn about tattooing itself. Before you can get near the needles, you will have to wait a while!
Build a portfolio of your work
Tattoo artist education also involves creating a portfolio to show potential clients your work. If you host your portfolio digitally, potential employers, or clients, will have an easier time viewing it. In addition to exemplifying your eye for design, websites can showcase your work in the best possible light. Artists and designers will find many website builders tailored to their needs among the best website builders for SMEs. It tends to have smarter, more aesthetically pleasing templates that enhance work presentation.
When opening your tattoo shop, piercing, or electrolysis studio, you must register with your local council for a tattoo license. In addition to tattooing, this license covers cosmetic piercing, electrolysis, and acupuncture.
For businesses based in London, you must obtain a Special Treatments Licence from your local council. Massages, manicures, and chiropody are also included, along with the activities listed above. A licensed contractor must only work at licensed premises. In addition, you must display your license and certificate in a prominent location on your property. Failure to do so could result in a fine.
Safety and health regulations must be met
The license also requires that you adhere to local bylaws concerning your staff's hygiene, furniture, and equipment. To ensure that your premises comply with these regulations, you will normally be inspected before applying for a license. Keep your business premises and equipment updated, as the local environmental health department will inspect them regularly.
Many tattoo shops and artists choose to be insured with liability insurance, although most local councils don't require them to carry it. Professional liability insurance can protect the artist if a mistake or issue leads to a lawsuit.
It is possible to make a good living as a tattoo artist if you are creative and have a strong stomach. In recent years, tattoos have gained popularity and mainstream acceptance. Despite this, tattooing is a heavily regulated industry, so safety factors must be considered. Several governments are investigating the health effects of tattoo inks following the European Union's ban on certain pigments last year. Thanks to this article, you can learn how to become a tattoo artist. Let's put your idea into action. 
Was this article helpful? Let us know in the comments.
How much do tattoo artists make?
The average tattoo artist's salary in the UK is around £29.19 an hour, which equates to £21,821 a year. An experienced tattoo artist can earn up to £60,000 a year. It is common for well-known and celebrity tattoo artists to charge up to £325 an hour. You can also set your rates if you start your tattoo studio.
How much does a tattoo cost?
In general, tattoo prices range from $150 to $450. The cost of very large tattoos can be quite high. If you plan on getting a tattoo for a long time, it is important to find an artist whose work you will cherish for years.
How long is a tattoo apprenticeship?
A tattoo is a permanent mark that you get from a professional artist. It's not just an art but also a skill that can be learned and mastered. In most cases, the tattoo apprenticeship lasts for 4-6 months, during which you learn the basics of tattooing and receive an apprenticeship certificate to show for it.
---